ROI – The Water We Spend
This article is part three of a series.

"People don't have any idea that when they flip their light switches on or their air conditioner, there's huge amounts of water involved," said Neil Carman, director of the clean air program for the Texas Chapter of the Sierra Club.
---
Water is behind absolutely everything we do. Let's begin this story back home. How does our domestic water use break down?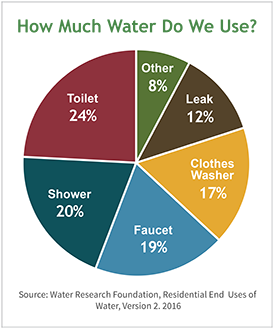 According to the EPA the average family uses more than 300 gallons of water per day. If you look at the pie chart above (which comes from their website) you can see that we use this water for worthy goals.
Sanitation cannot be overstated. It is what makes life bearable. As such I deem this to be a good ROI for water spending. Though I would stress that we must strive to carry out these use-cases more efficiently.
Efficient use of resources at home is laudable. But we shouldn't sink into the comforting fantasy that small changes at home will make a big difference for water conservation. The illusion of control that we get from being 'good people' is, like most illusions, detrimental.
Even if everybody followed the most stringent conservatism in their domestic water use it wouldn't begin to make a dent in our 'water debt' (To be explained). This is because the biggest water hogs are irrigation and Thermoelectric power.
As you can see from the above graph almost half of all freshwater withdrawals in 2010 were for Thermoelectric power. Irrigation is the second largest water hog at 32%.
Power and food are essentials. It is a good return on investment to spend water on these things. As with domestic use we must be more efficient here. The efficiencies that we improve in these two areas will have a far greater impact on making sure that we have plenty of fresh water available for the future.
The good news is that we do seem to have had a positive impact on water use.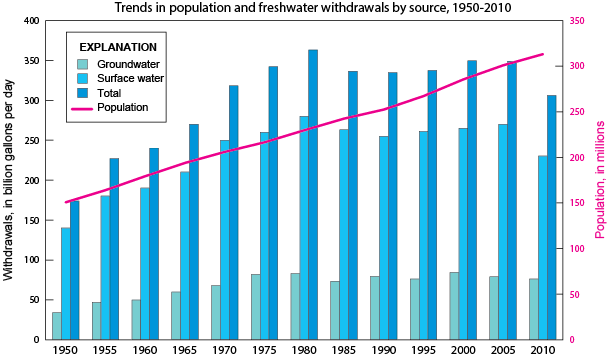 What the above graph tells us is that there is a relationship between water use and population.
According to this graph water use peaked in 1980. It has since that time remained more or less steady. Though population growth continued along with a greater need for irrigation and industry, total water use has not risen. This seems to suggest that we've become more efficient at using water.
While I don't doubt that greater efficiency in water use has contributed to this pleasant steadiness, I can't help but think that offshoring a good chunk of our industry may also play a role. (As of the writing of this article I don't have the exact data but I feel the possibility is worth mentioning.)
Now that you have some idea as to how we use water it's time to get a bit more in-depth. The next article in this series will delve into the technologies and practices that have allowed us to get more out of water since the 1980's.
---
Sources