The Sketch of Sam Monroe – Chapter 3.7 – 'Good food and good work…'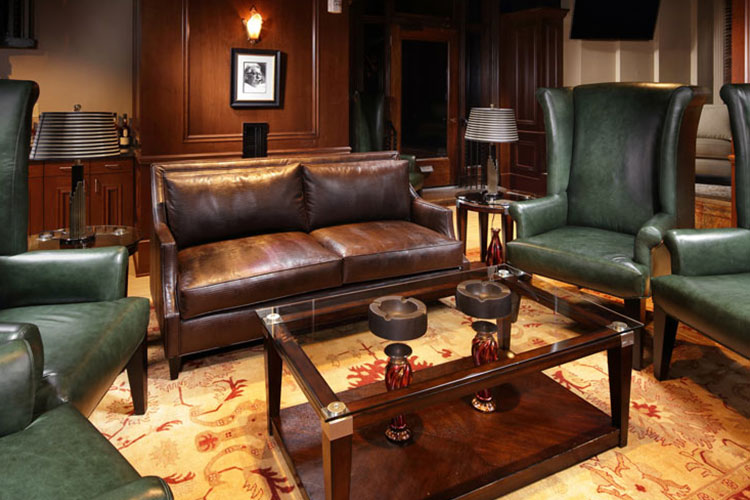 ---
I was sated. I was oversated. So much so that I felt one with the deep brown leather of the recliner that I was occupying. We were two stuffed amorphous things merged as one. Like some sort of gluttonous first world yin-yang circle.
The rich tobacco was simultaneously soothing and oppressive. Slowly it brought me from the pits of 'itis' to that peculiar nicotine alertness. I suppose that was the point of an after dinner smoke. It was meant to keep the conversation going.
There was much to converse about. The low-lit backroom was full of expectation. Our host's lilting Latin baritone painting wild scenes with surprising fluency. The halting, grammatically awkward, cadence of the past few hours had completely faded. As if the Professors brain had completed shifting gears into English.
"So, you see, it's really an amazing thing. They're all over the place. Mostly under the sea. Do you know how to dive?"
"Of course."
"How well?"
"We aren't Navy Seals but we're certified."
"Commercially?"
"We might be a grotesque tax funnel but we aren't mercs."
"Come again?"
"I'm joking, point is, yeah we're prepared to dive, deep, long, and hard."
"Giggity." Sam enjoined.
"To what depth?"
"Beyond 130 feet."

"Spectacular!"
We all waited to hear why this was spectacular.
Senhor Böhm pulled a fresh Davidoff from the humidor.
He had very languid, sort of fluid, movements. All the way up to that perfect snip just above the shoulder. The brisk cheery sound of a match, an arc, a draw, and an explosion of smoke all occurred with a hypnotic precision.
"Well, the thing is about a hundred miles off the coast of the Galapagos."
"O?"
"Yes, the largest megalith known to man. And much besides…"
"Such as?"
Leo chuckled. "I do not like to ruin surprises."
"We're already plenty surprised."
"Perhaps, but I can tell that you are skeptical about what lies in the Mato Grosso."
"Professor, I could take you places that would make you doubt the very soil on which you stand. Lost archeological sites in thick forests aren't beyond imagination. Even in the present day."
Our host simply smiled in that friendly perpetually amused sort of way.
"The young always think they've seen it all." He laughed.
"Young? I've been officially too creepy to go to a rock show for almost a year now."
"Perhaps, but I am old enough to be your father and I must tell you that, you will enjoy life much more if you really let the mystery in."
'Old enough to be my father…' I mused regarding the smooth clean-cut features, the lack of paunch, the bright smiling eyes that radiated so much energy I'd swear they were on the verge of exploding.
"Don't look so surprised, you will be the same as I, if you learn to love good work, and good food."
"I don't believe you."
"Guess when I finished Uni?"
I thought for a bit.
"2004."
Leo laughed in his quiet, gentlemanly way, for a long time.
"I am very flattered but…off by two decades I'm afraid."
"Bullshit."
"UC Berkley, 1984."
"Super bullshit."

At this, our host produced a passport from his blazer. He handed it to me.
'Jesus. March 19th …1958…' I thought to myself as I inspected the document. Looking for signs of forgery. He certainly had the demeanor of a practical joker.
Again, he was chuckling quietly to himself.
'He's three years older than my father.' I felt my brow furrow as I looked from the date to the man.
"You're sixty?"
"Yes! And as you can see my birthday was only a week ago! And what a wonderful present Senhor Hoyt has brought me!"
I was still skeptical. But maybe it was possible. He did have that sort of posh energy that I'd seen in athletic frat boys. 'Good food and good work…' Still though…
My reverie was broken by Sam's excited soprano, "So when!?"
"I will leave for the Galapagos in two days. You boys will leave for Richmond in three. But ah! The future is dull and unreal…for now I have always meant to see Staten Island."
---
1.1 (Intro) The Sketch of Sam Monroe
1.2 The Cajun Prayer
1.3 The Sketch of Sam Monroe – Chapter One: The Cambridge Gable Scene ('Gator is Waitin')
1.4 The Sketch of Sam Monroe – Chapter 1.4 – The Cambridge Gable Scene – (Horticulture)
1.5 The Sketch of Sam Monroe – Chapter 1.5: 'To Luckadoo Cove'
1.6 The Sketch of Sam Monroe – Chapter 1.6 – 'Is there anybody out there…'
1.7 The Sketch of Sam Monroe – Chapter 1.7: 'Jesse'
1.8 The Sketch of Sam Monroe – Chapter 1.8: 'Lungful of Bees'
1.9 The Sketch of Sam Monroe – Chapter 1.9 – 'Precedent'
2.0 The Sketch of Sam Monroe – Chapter 2.0 -Calvinist Neuroses
2.1 The Sketch of Sam Monroe – Chapter 2.1 – Mirage
2.2 The Sketch of Sam Monroe – Chapter 2.2 – Estate Planning
2.3 The Sketch of Sam Monroe – Chapter 2.3 – High Tech Summons
2.4 The Sketch of Sam Monroe – Chapter 2.4 – Amazon Stonehenge
2.5 The Sketch of Sam Monroe – Chapter 2.5 – Jung
2.6 The Sketch of Sam Monroe – Chapter 2.6 – Dee
2.7 The Sketch of Sam Monroe – Chapter 2.7 – Meeting 211
2.8 The Sketch of Sam Monroe – Chapter 2.8 – Itinerary
2.9 The Sketch of Sam Monroe – Chapter 2.9 – Fact and Fiction
2.10 Sketch of Sam Monroe – Chapter 2.10 -Kaffeeklatsch
2.11 Sketch of Sam Monroe – Chapter 2.11 – Catnap
2.12 Sketch of Sam Monroe – Chapter 2.12 – 'One Pair'
2.13 The Sketch of Sam Monroe – Chapter 2.13 – Reentry
2.14 The Sketch of Sam Monroe – Chapter 2.14 – Phoenix
2.15 The Sketch of Sam Monroe – Chapter 2.15 – Apollo and Dionysus
3.0 The Sketch of Sam Monroe – Chapter 3.0 – Inherit the Wind
3.1 The Sketch of Sam Monroe – Chapter 3.1 – Stardust
3.2 The Sketch of Sam Monroe – Chapter 3.2 – Loyola
3.3 Chapter 3.3 – High and Dry
3.4 Sketch of Sam Monroe – Chapter 3.4 – One Dream
3.5 The Sketch of Sam Monroe – Chapter 3.5 – Pensive
3.6 The Sketch of Sam Monroe – Chapter 3.6 – Feijoada
---
Social
https://www.minds.com/Weirmellow
Help a Hipster
https://www.patreon.com/TheFractalJournal